Posts filed under 'Desserts'
Ingredients:
1 C Butter – Do not substitute
1 – 3oz pkg cream cheese – softened
1 C sugar – regular or raw for added flavor (can change color)
1 egg yolk
3/4 tsp vanilla
2 1/2 C flour
1/2 tsp salt
1/4 tsp baking soda
Frosting of choice
Directions:
In mixing bowl; cream butter, cream cheese and sugar.  Beat in egg yolk and vanilla.  Combine flour, salt and baking soda in separte bowl; gradually add to creamed mixture.  Cover and refrigerate for 3 hours or until easy to handle.
Preheat oven to 375 degrees.  On a lightly floured surface, roll out dough to 1/8- inch thickness.  Dip desired cookie cutters in flour, and cut shapes.  Place about 1-inch apart on an ungreased baking sheet.  Bake for 8-10 minutes or until lightly browned at edges.  Cool slightly, about 2 minutes, before removing from baking sheet.  Frost as desired.  Makes about 4 dozen.

Ingredients:
Crust:
2 C finely ground pecans
2 C finely crushed vanilla wafer cookies
8 T butter or margarine melted
Filling:
8 oz Cream Cheese
8 oz heavy whipping cream
4 T raw sugar
1 T vanilla
8 oz sour cream
6 oz fresh raspberries, cleaned and drained
Directions:
Preheat oven to 350 degrees.  Prepare a mini cupcake or tart-let pan with cooking spray.  In a medium bowl combine ground pecans and crushed vanilla wafers, slowly pour in the melted butter and blend completely.  Will stick together.  Pat into the prepared cups, hollowing out the center to make a cup shape.  Bake for 10 minutes or until lightly browned.  Set aside on wire rack until cool.
In a large mixing bowl, combine cream cheese, sugar, sour cream, and vanilla until blended.  Add raspberries and blend until creamy.  Raspberries will leave a bit of lumpiness to the mixture.  Place in mixture in freezer for about an hour to firm up cream to use as a decorating cream.  Pipe into cooled cups and garnish with half a raspberry if desired.  Can fill cups with just a spoonful of cream if in a hurry.  Keep refrigerated until ready to serve.  Makes about 4 dozen cups.

Ingredients:
1/2 C butter or margarine, softened
1/2 C creamy peanut butter
1 C all-purpose flour
1/4 C cocoa baking powder
1/2 C raw sugar
1/2 C packed brown sugar
1 egg
1/2 tsp baking soda
1/2 tsp baking powder
1/2 tsp vanilla
shredded coconut
mini egg shaped candies (spring time colored peanut M&M's or Cadbury candy coated chocolate mini eggs work best)
Directions:
Preheat oven to 375 degrees.  In a large mixing bowl beat butter and peanut butter with an electric mixer on medium to high speed until creamy and well blended.  Add 1/2 C of the flour, the cocoa baking powder, sugars, egg, baking powder, baking soda, and vanilla.  Beat until thoroughly combined.  Beat in remaining flour.
Shape dough into 1-inch balls, roll into coconut to coat, place on an un-greased cookie sheet. Press middle with thumb to make a nest shape.  Place about 2 inches apart.
Bake for 7-10 minutes until coconut is lightly browned.  Do not over-bake.  Remove from oven and press candy eggs into the nests.  If indentation disappears during baking, press middle down gently with the edge of a large spoon before placing eggs.  Allow to sit on cookie sheet for a few minutes before transferring to a wire rack to cool.  Makes about 16 – 24 cookies.

Ingredients:
Crust:
3 C rolled oats
2 T tightly packed brown sugar
1 tsp cinnamon
1 stick butter, melted
Cheesecake Layer:
2 – 8 oz pkg cream cheese, softened (do not use fat free)
1/2 C raw sugar
1/2 tsp vanilla
2 eggs
Raspberry Sauce:
12 oz frozen raspberries
2 T raw sugar
1 pkt Gelatin
8 oz light sour cream
Directions:
Preheat oven to 350 degrees.  In a medium sized bowl, combine rolled oats, brown sugar and cinnamon until well blended.  Slowly pour in melted butter until coated.  Set aside about 1/2 cup of crust mixture.  Pack the remaining crust mixture evenly into the bottom of a 9 X 13 glass cake pan.  Bake for 15 min.  Remove from oven and set aside.
In a large glass bowl, blend together cream cheese, sugar and vanilla until well blended.  Add eggs and blend until creamy.  Pour evenly over crust, spread out until an even layer is spread over crust.  Bake for 25 min or until a toothpick inserted into the center comes out almost clean.
While cheesecake bakes: In a medium saucepan, blend together frozen raspberries and raw sugar.  Cook until thick and bubbly, stirring often to prevent sticking.  Slowly stir in Gelatin, stirring constantly until completely blended.  About 2 minutes.  Set aside to cool.  Once cooled slightly, fold in sour cream.  Remove cheese cake from oven, cover cheesecake with an even layer of the raspberry mixture, sprinkle with the reserved crust mixture and bake for 15 minutes.  Allow to cool completely before refrigerating or serving.

Ingredients:
1 lb frozen whole strawberries, leaves removed – reserve one large strawberry for garnish, thawed (optional)
2 T raw sugar
1 T lemon juice
1 tsp vanilla extract, clear
1 pkt unflavored gelatin
16 oz whipped topping, thawed
9 1/2 inch pre-made graham cracker crust
Directions:
In a medium sauce pan, add strawberries, lemon juice, sugar and vanilla.  Cook on medium/high heat until brought to a boil, stirring constantly.  Mash strawberries as they begin to thaw.  Slowly add gelatin, remove from heat, and stir constantly for 3-5 minutes, or until the gelatin is completely dissolved.   Set aside and allow to cool to room temperature.  In a large bowl, gently fold together whipped topping  and strawberry mixture until completely blended.  May have some white marbling.  Pour filling into the prepared crust, spreading evenly.  Garnish with sliced strawberry, if desired.  Refrigerate 6-8 hours or overnight until firm.
To have a lighter version of the pie, use a light whipped topping, do not use fat free or it may not set properly.

Ingredients:
1 C flour
2 beaten eggs
milk to thin, about 1 – 1 1/2 C
1 tsp vanilla
1 large banana sliced, thin
1/4 C toasted coconut, divided
8 oz cream cheese, softened
2 T sugar
1 tsp vanilla
1 1/2 C whipped cream
Directions:
In a medium bowl, whisk together flour, beaten eggs, 1/2 tsp vanilla and milk to make a thin batter.  Spray a medium skillet with cooking spray and heat to medium.  Pour a thin layer of batter into pan and swirl around to make a large very flat, thin crepe.  Set aside to cool.  In a large bowl, beat together cream cheese, sugar and 1/2 tsp vanilla until well blended.  Fold in about 2 tablespoons toasted coconut, bananas and whipped cream until well blended.  Take a crepe and lay on large plate, spread some of the cream cheese filling on one quarter of the crepe, fold over.  Spread more cream cheese filling over the first layer.  Fold over crepe again.  Top crepe with a dollop of whipped topping and sprinkle with toasted coconut.  Repeat with remaining crepes and filling.  Makes 4.  (Note:  If you prefer less of a cream cheese taste to your filling, use vanilla pudding instead, but filling may be thinner.)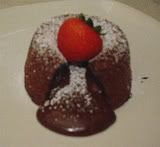 They're so moist and rich in chocolate… and ohhhh soooo good!
Ingredients:
6 squares BAKER'S Semi-Sweet Chocolate
10 Tbsp butter
1 1/2 cups powdered sugar
3 whole eggs
3 egg yolks
1/2 cup flour
Directions:
PREHEAT oven to 425°F.
BUTTER 6 ramekins and place on baking sheet.
MICROWAVE chocolate and butter in large microwaveable bowl on MEDIUM 2 min. or until butter is melted. Stir with wire whisk until chocolate is completely melted. Stir in sugar until well blended. Blend in eggs and egg yolks with wire whisk. Stir in flour. Divide batter among prepared custard cups.
BAKE 14 to 15 mins or until sides are firm but centers are soft. Let stand 1 min. Run small knife carefully around cakes to loosen. Invert cakes onto dessert dishes.
Serve immediately, topped with fresh fruit and whipped topping

Ingredients:
3 oz. dry roasted macadamia nuts, chopped
1 5.5 oz package Werther's Original Hard Candies (about 30 pieces)
1 ½ cups all purpose flour
½ teaspoon salt
½ teaspoon baking soda
1 stick butter, softened
¼ cup white sugar
¼ cup light brown sugar
½ teaspoon vanilla extract
1 egg
Directions:
Preheat oven to 350. Unwrap the candies and place into heavy-duty zipper top plastic bag. Using a rolling pin, hit the bag to break up the candies, then use the rolling pin to go over the pieces, breaking them into small, pebble-sized bits. Set aside. Place flour, salt, and baking soda into a small bowl and set aside. Using mixer, cream butter together with sugars, then add vanilla and egg. Mix until smooth. Add in the flour mixture in thirds, beating after each addition until well combined. The dough will be fairly stiff. Mix the nuts and the broken candies into the cookie dough, using a wooden spoon to blend the nuts and candy evenly through the dough. Line a cookie sheet with parchment paper and drop rounded teaspoons of cookie dough onto cookie sheet. Bake for 13 to 15 minutes, until golden brown. Remove from oven and allow cookies to cool for at least 2 minutes before moving from cookie sheet to cooling rack. Makes 2 ½ dozen cookies.
This recipe is from the writer Marie Bostwick, For those in search of the recipe for Charlie's famous Butterscotch Macadamia Nut Cookies from the novel A SINGLE THREAD.

 Ingredients:
1 C Butter (2 sticks)

¾ C Sugar

¾ C Brown Sugar

2 Large eggs

1 tsp. Vanilla

3 ½ – 4 C All purpose flour

1 tsp. Baking soda

1 tsp. Salt

1 8oz Package English Toffee Bits

1 pkg Caramel Kisses
Directions:
 Preheat oven to 375º.  In a large mixing bowl, beat butter and sugars until creamy and well blended.  Add eggs and vanilla.  Slowly add flour, one cup at a time, with salt and baking soda added between cups, until a thick moldable dough forms.  Add the toffee bits, blend well.
Roll dough into about 1-inch balls.  Place on cookie sheet sprayed with cooking spray.  Repeat with remaining dough, placing cookies about 1 inch apart.  Bake for 10 minutes.  Remove from oven and press an unwrapped Carmel kiss into the center of each cookie.  Cool completely.  Makes about 2 – 3 dozen.

Ingredients:
2 1/2 C flour
1 T sugar
1 C cold butter
1 egg, separated
approx. 1/2 cup milk
1 C cornflake crumbs
5 – 8 apples, cored, peeled and sliced thin
1 C sugar
1 tsp cinnamon
Directions:
Mix first three ingredients with mixer until it looks like cornmeal.  Place beaten egg yolk in measuring cup, add enough milk to total 2/3 cup liquid.  Add liquid to flour mixture and mix until well blended.  Divide dough into 2 balls.  On a floured surface, roll out ½ the dough to fit in a 10 x 15 cookie sheet with one inch lip.  Spread cornflake crumbs on bottom crust.  Spread sliced apples over crust.  Mix together cinnamon and 1 cup sugar and sprinkle over apples.  Roll out other half of dough to fit over top and seal.  Cut air vents into top.  Beat egg white until stiff and spread over top crust.  Bake 40 min at 400º.  Drizzle with powdered sugar icing.
Powdered sugar icing:
1 C powdered sugar, milk to thin, 1 tsp vanilla.  Blend together until thin enough to drizzle over with a spoon.