Posts filed under 'Lighter Side Options'
Ingredients:
1 lb lean ground chicken
1/2 C Italian bread crumbs
1/2 head red cabbage, chopped
1/2 head bok choy, chopped
1 lb baby portabella mushrooms, sliced
1 sm bag shredded carrots
2 stalks celery, diced fine
1/2 lrg white onion, chopped fine
4 green onions, diced fine heads and greens
1 14.5 oz can Hunts diced tomatoes in basil, garlic and oregano
2 tsp fresh garlic, diced fine
8 chicken bouillon cubes
16 C hot water
1 C brown rice
thyme, to taste
Creole seasoning, to taste
garlic powder, to taste
onion powder, to taste
2 tsp Kosher salt
fresh ground pepper, to taste
vegetable oil
Directions:
In a medium bowl, blend together the ground chicken and Italian bread crumbs.  Roll chicken into small balls about 1/2 inch in diameter. place in the bottom of a large soup kettle, sprayed with cooking spray to prevent sticking.  Cook on medium heat until brown on all sides.   Add the bouillon and water and simmer.
Prepare a large wok or skillet with vegetable oil.  Add the onions, celery, garlic and red cabbage, sprinkle with pepper to taste and saute until just softened.  Do no over cook.   Add to soup kettle.
Prepare the wok or skillet with vegetable oil again.  Add the bok choy and mushrooms.  Sprinkle with pepper and saute until mushrooms are cooked through and bok choy is softened.  Do not over cook.  Add to soup kettle.
Add carrots to soup kettle.  Season the soup with thyme, Creole seasoning, garlic powder, onion powder, Kosher salt and pepper to taste.  Bring to a slow boil. Add rice and simmer until rice is splitting open.  Allow to cool slightly before serving.

Ingredients:
9 lasagna noodles – prepare according to directions on package
2 C heavy cream
2 T cream cheese
4 C 6 cheese Italian blend cheese
1 lg container cottage cheese
1 whole egg
2 C small shrimp
1 C sliced baby Portabella mushrooms
2 cloves garlic, minced
2 T Moscotto wine
2 tsp basil
1 tsp fresh ground pepper
1 T butter
Olive oil
Directions:
Preheat oven to 350 degrees.  Prepare lasagna noodles.  In a large skillet, saute shrimp in a small amount of olive oil, basil and 1 minced clove garlic until cooked through.  In a medium sauce pan, melt butter and saute 1 clove minced garlic. Slowly add cream and heat until mixture comes to a slight boil, stirring constantly. Add cream cheese and stir until blended.  Slowly add about 1 cup of the Italian blend cheese until completely blended and sauce thickens.  Add wine and season with pepper.  Set aside.   In another large saute pan, drizzle the pan with olive oil and saute sliced mushrooms and onion, sprinkled with pepper, until browned.  Stir mushroom mixture and Shrimp mixture into the sauce, set aside.  In a large mixing bowl, blend 1 egg, 1/4 cup of the Italian cheese, basil and cottage cheese until mixed well.
Line the bottom of a 9 x 13 glass baking dish with 3 of the lasagna noodles.  Layer the cheese mixture over the noodles, top with cheese and shrimp sauce and sprinkle with Italian blend cheese.  Repeat with the rest of the noodles.  Cover with foil and bake in center of oven for about 20 minutes, or until bubbly.  Remove foil and bake for 10 minutes more or until lightly browned on top.  Remove from oven and let sit for about 10 minutes before serving.  Makes 12 servings.
Lighter and/or Gluten Free Option:
Swap the standard lasagna noodles for rice lasagna noodles.  Swap the cream cheese for 1/3 less fat cream cheese, do not use fat free as it will not break down well. Swap the cottage cheese for the low fat version. Use the Reduced fat Italian blend instead of the 6 cheese Italian blend.  Use Fat Free half & half instead of the heavy cream.  Olive oil cooking spray is a great alternative to the standard olive oil.  You can also use imitation crab instead of the shrimp.  Keep in mind that rice noodles and reducing calorie count can cause the sauce to be a little bland.  You may want to add extra garlic, pepper, or top with grated Parmesan cheese to add a little flavor.  These changes can bring the calorie count down considerably and also reduce the fat count to less than 8 grams per serving.

*Note: You may need to adjust or double the amounts of ingredients depending on the size of your eggplant.
Ingredients:
1 eggplant, peeled and sliced thin (the thinner the slice, the crispier it will be)
1 C whole wheat Panko breading
2 – 3 T grated Parmesan cheese
Season with Garlic and Herb seasoning, to taste
1 egg
2 -3 T cool water
Directions:
Preheat oven to 350 degrees. Prepare a baking sheet by lightly coating it with olive oil.  Blend the panko breading, parmesan cheese and Garlic and Herb seasoning in a shallow bowl. In another shallow bowl, blend together the egg and water.  Dredge the eggplant slices, both sides, through the egg mixture and then through the panko mixture until coated.  Place on baking sheet just slightly apart.  Bake for 15 minutes on each side or until lightly browned.  Can be served with your favorite marinara dipping sauce or enjoy as they are.

Ingredients:
1 lb Large Portobello mushrooms, sliced
2 – 3 cups burgundy or Concord wine
1 C Balsamic Vinegar
1 small onion, sliced into rings and separated
Provolone cheese
Garlic and Herb Mayonnaise, prepared
Hard rolls
Directions:
In a large covered container, place mushrooms and onion ring slices in a layer.  Coat with wine and vinegar and mix until well covered.  Cover and place in refrigerator for 6 to 8 hours. Stir or shake container once during marinating time.  Preheat grill (if using a standard grill, layer foil over the grate so the mushrooms do not fall through), layer the mushrooms out in a thin layer.   Grill until onions and mushrooms are soft, tender and browned to your liking, flipping once during cooking.  Butter buns and place on grill to brown.  Serve mushrooms topped with a slice of Provolone cheese and Garlic and Herb mayonnaise.  Serves 4.
For an added flavor, add thin slices of green peppers to the marinade and grill with the mushrooms and onions.

Ingredients:
1-8oz pkg 1/3 less fat Neufchatel Cheese
3 heaping tablespoons fat-free sour cream
1 – .6 oz pkg Zesty Italian Salad Dressing Mix (dry)
1 tsp lemon juice
Directions:
In a medium bowl, mix ingredients together, until smooth, with a hand mixer.  Scrape sides with spatula to make sure all is blended in and no chunks remain.  Serve with your favorite crackers, or chips.  Also good as a veggie dip.  Makes about 1 and 1/2 cups.

Ingredients:
1 – 12 oz bag Veggie Bow Tie pasta
1/2 pkt Zesty Italian dressing mix
1/4 tsp dill weed
fresh ground black pepper to taste
1 – 1/2 C light mayo, blended with Almond milk until creamy
2 T finely chopped onion
1/2 C frozen green peas
1 C shredded carrot
1 – 2 C cut up broccoli flowerettes
1 – 2 C sliced grape tomatoes
1/2 C shredded 4 cheese Mexican blend
Directions:
Boil pasta until just done according to directions.  Drain, rinsing with cold water until cooled.  Set aside.  In a small bowl, blend together mayo mixture and seasonings.  Place all cleaned and cut up vegetables in a large bowl, add pasta, coat with mayo and seasoning mixture until completely coated.  Fold in cheese until blended.  Refrigerate until served.

Ingredients:
1 lb chicken breast tenders
2 C Goya apples, cored and chopped fine – do not remove the peel
1 C sliced red, seedless grapes
1 stalk celery, cleaned and chopped fine
1/4 C chopped walnuts
1/2 C dried cranberries
light Mayo
lemon juice
Almond milk
1 T rosemary leaves
1 tsp basil
1 tsp thyme
fresh ground pepper to taste
Olive oil
Directions:
Preheat grill.  In a small bowl, blend together rosemary, basil, thyme and black pepper, breaking up rosemary leaves until broken down small.  Mix in about 1/2 cup olive oil.  Baste both sides of chicken tenders with seasonings and olive oil until lightly coated.  Grill until lightly browned on both sides and no pink remains.  Set aside until cool.  In a large bowl, combine fruit, celery and nuts, drizzle with lemon juice until lightly coated.  In a small bowl, combine about 1 cup light mayo, 1 teaspoon lemon juice and enough almond milk to thin, blend until creamy.  Cut cooled chicken into small pieces and add to fruit and nut mixture.  Mix in mayo mixture until lightly coated.  You can add more if you prefer a richer mayo sauce.  Refrigerate for about an hour or overnight to allow the flavors to blend.  Serve on whole wheat bread with a slice of Provolone cheese, also good with whole wheat crackers when served as a snack.

Ingredients:
1 lb frozen whole strawberries, leaves removed – reserve one large strawberry for garnish, thawed (optional)
2 T raw sugar
1 T lemon juice
1 tsp vanilla extract, clear
1 pkt unflavored gelatin
16 oz whipped topping, thawed
9 1/2 inch pre-made graham cracker crust
Directions:
In a medium sauce pan, add strawberries, lemon juice, sugar and vanilla.  Cook on medium/high heat until brought to a boil, stirring constantly.  Mash strawberries as they begin to thaw.  Slowly add gelatin, remove from heat, and stir constantly for 3-5 minutes, or until the gelatin is completely dissolved.   Set aside and allow to cool to room temperature.  In a large bowl, gently fold together whipped topping  and strawberry mixture until completely blended.  May have some white marbling.  Pour filling into the prepared crust, spreading evenly.  Garnish with sliced strawberry, if desired.  Refrigerate 6-8 hours or overnight until firm.
To have a lighter version of the pie, use a light whipped topping, do not use fat free or it may not set properly.

Ingredients:
2 T Dijon mustard with wine
3 T water
3 T fresh squeezed lemon juice
2 T olive oil
1 tsp fresh ground black pepper
Directions:
In a medium sized bowl, combine ingredients with a wire whisk and refrigerate, covered, for about 30 minutes before using.  Can be stored up to 1 week in refrigerated, covered.  Best served over a salad with Spring greens mix and grilled chicken.  Also good with imitation crab pieces.  Serves about 4.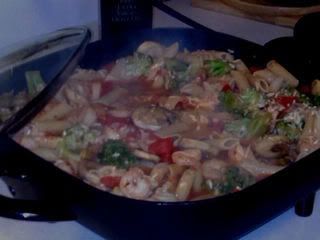 Ingredients:
1 lb cooked, cleaned, peeled and deveined shrimp with tails removed
8 oz white button mushrooms, cleaned and sliced thin
1 med onion, sliced into rings
32 oz stewed tomatoes in basil, orgegano and garlic (chopped if whole)
1/4 tsp lemon basil
1/2 tsp Italian seasoning
2 cloves garlic, minced
1 tsp Worcester sauce
1/8 tsp marjoram
Dash of cooking sherry
1 small pkg frozen broccoli flowerettes
2 T butter
1/2 C Parmesan/Asiago blend shredded cheese
7 oz Whole Wheat Penne pasta, cooked al dente and drained
Directions:
In a large deep skillet, saute mushrooms and onions in butter.  Add stewed tomatoes, seasonings, sherry, broccoli and shrimp.  Add drained pasta to mixture and stir cheese into stew.  Cook until cheese is melted.  Serves 4 to 6.